The winning members of the Parkes contingent.
2021 Bogan Gate results.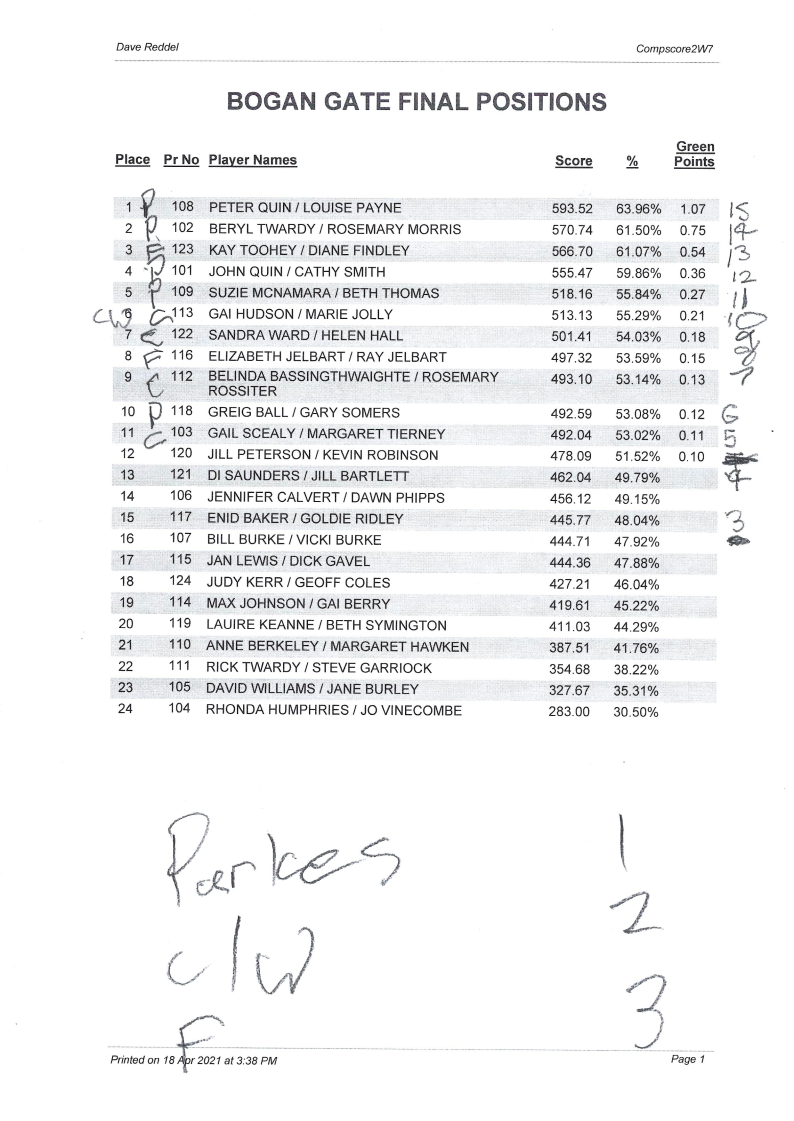 The club has suspended playing  Bridge on Easter Monday 5th April, 2021.
At the next general meeting on Thursday 4th February, 2021 an item on the agenda will be  the changing of the Annual General Meeting from July to February.  This of course would mean a change in the constitution and for this to take place it must be passed at the next AGM in July, 2021.  There are financial advantages in doing this, so come along and voice your thoughts.
Our eldest and most famous member, Val Worthington, turned 96 on January 11th.
Pictured, receiving congratulations from  Bev Laing and Joan Reilly.
The Club will commence playing Bridge for 2021 at the usual times on Monday 11th January.
Venue. Lutheran Church Hall, Currajong St, Parkes.
Monday  6.30pm. 
Tuesday 1pm.
Thursday 1pm.
Covid 19 conditions as previously disseminated still apply.
NB:
IF YOU HAVE BEEN TO  ANY HOT SPOT YOU WILL NOT BE PERMITTED TO PLAY UNTIL THE EXPIRATION OF 14 DAYS.
Red Points allocation for the remainder of year 2020-:
October: Thursday 8th, Monday 19th and Thursday 22nd.
November:   Club Championship.  (Gill Ross Trophy.)  Thursday 5th and Thursday 12th.
Monday 16th.
December: Monday 7th, Thursday 10th.                
Club to recommence playing on Mondays and Thursdays, usual times,  commencing on the  Thursday 17th September, 2020.
Minimum of 3 tables maximum of 5.  
For those playing on Thursdays names to Jenny freeman on a first in play basis. Those who miss out will be placed first on the list for the following week.
The same conditions apply for Monday with names going to Greig. 
Upon entering the Red Cross Room sanitize your hands and sign the book, and then take a seat.
Previously circulated health protocols will apply.
Due to the deteriorating condition of Covid 19 in the state, and the protocols required by both the Red Cross and Government, the committee meeting held on the 28th July, has suspend bridge until further notice. (This could possibly be until the end of the year.)  However there is a work in progress to form a Social Spring Knockout Competition which will be played over several months.  This project is the work of Vicki  Burke and those who wish to participate contact Vickie for the details.
Because of the deteriorating situation of Covid 19 in the state, the executive has decided to postpone the reopening of bridge until further notice.
A full committee meeting will be held on Tuesday the 28th July to affirm the decision and discuss other relevant issues.
Greig.
Contact Info
P.O. Box 256.  
Parkes, NSW. 2870.
parkesbridgeclub@gmail.com
Pres. Pn 0429621712
Sec.  Pn 0448626653